EC Chosphel convenes meeting with ASC officials Discusses procurement of local vegetable and milk by ASC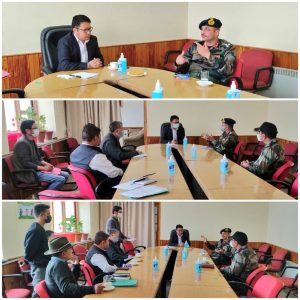 Leh, June 24: An important meeting was held under the chairmanship of Executive Councillor for Agriculture and Cooperative, Stanzin Chosphel today at the Council Secretariat, Leh to discuss the procurement of local vegetables and milk by the Army Supply Corps (ASC) in Leh.
The matter was discussed in deliberate and ASC has assured the meeting that they will procure milk in the form of packages and the all the vegetable products through the Cooperative Marketing Society. ASC has also assured to procure Onion, cabbage and potato productions from the farmers of Leh throughout the year.
Brig. Nikhil Tiwari and Col. Sandeep Kumar from Army Supply Corps, ARC Cooperative department, President and Secretary of Ladakh Cooperative Marketing Society attended the meeting.