EC ASH, Horti reviews necessary preparations for the mass plantation drive at Chushul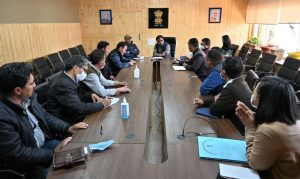 Leh, April 08: Executive Councillor for, Animal/Sheep Husbandry, Tashi Namgyal Yakzee in the presence of Executive Councillor for Horticulture, Ghulam Mehdi Ashoor convened a meeting today to discuss plans for the mass plantation drive organised by the 'Go Green Go Organic' Committee of Chushul village to be held on the World Environment Day on 5th June 2022. The members informed that the collaboration on the Go Green project since 2014 with the Hill Council, Leh resulted in eleven phases, of which ten are already completed.
EC Tashi Yakzee instructed the members to accomplish the plans for the mass plantation drive in a phased manner which would be of great benefit for the people of Ladakh. The members emphasised the importance of the meeting in respect of environmental challenges and the goal to make Ladakh completely organic.
He also instructed the members to complete the given specific work to the earliest. He enquired all departments on the current situation and the requirements to achieve the goals planned for the mega plantation drive to be held soon.
The meeting was attended by Councillor Chushul, Konchok Stanzin, ADC Leh, BDC Durbuk, Officials from the Agriculture, Forest, Horticulture, Health, RDD, I&FC, Command Area Department, R&B, PDD & PHE Department Leh, Representatives from DIHAR, SKUAST and the Organising Committee members of Go Green organisation.