EC Animal/Sheep and DC Leh visits villages of Changthang Took stock of functioning of FHTCs and distributes 222 quintals of subsidized concentrated livestock feed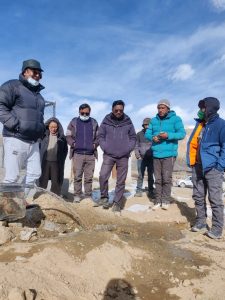 Leh, Jan 14: Executive Councillor, Sheep/Animal, Tashi Namgail Yakzee along with Deputy Commissioner/CEO LAHDC, Leh, Shrikant Suse visited Mudh, Dungti, Kuyul, Katley, Tsaga and villages of Nyoma sub-division on January 12 and 13. They were accompanied by Councillor Nyoma, Ishay Spalzang; Chairman, BDC, Nyoma, Urgain Chodon; District Sheep Husbandry Officer, Dr Tundup Namgail; Assistant Director, SHD, Nyoma, Dr Changchup Dorje and field officers of the PHE department.
During the tour, DC Leh, Shrikant took stock of the proper functioning of Functional Household Tap Connection (FHTC) provided to the villagers under Jal Jeevan Mission (JJM). Also, interacted with the villagers to get their firsthand experience on the success and maintenance of the water taps during the harsh winter months which otherwise freezes due to extreme winter weather conditions.
After making an assessment and taking into consideration the lean grazing season, a total of 222 quintals of subsidized concentrated livestock feed procured under subsidy head of District budget were distributed among the sheep/goat livestock herder of Skagzung/Dungti and Kuyul villages.
He also stopped by the Rebos at different sites to enquire about their welfare and distributed essential provisions packages to few needy households.