EC Aga Syed Mehdi Fazili convenes review meeting of Horticulture Department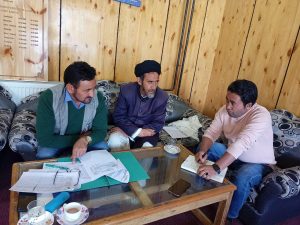 KARGIL, JUNE 03, 2022: Executive Councilor Horticulture, LAHDC Kargil, Aga Syed Mehdi Fazili in presence of Executive Councilor Agriculture, LAHDC Kargil Mohsin Ali today convened review meeting of the Horticulture Department with Chief Horticulture Officer, Kargil.
During the meeting, the CHO Kargil briefed the Executive Councilor with regard to the departmental activities being carried out during the current financial year under different schemes. He put forth some issues of the department before the EC for redressal.
The EC Horticulture after assessing the departmental activities directed the Chief Horticulture Officer to implement the schemes sanctioned by the Government in favour of the deserving beneficiaries on the ground.
The EC also directed to gear up the field functionaries to inspect the projects/programs being carried out by the department.
The EC assured the CHO Kargil that LAHDC Kargil will provide all possible help to uplift the horticulture sector in the district.