Dy Secy GoI reviews efforts of UT Admin to make Ladakh carbon neutral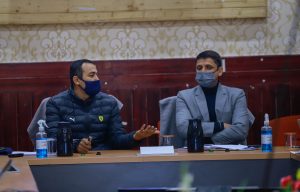 Leh, November 27: Deputy Secretary, Prime Minister's Office, Govt. of India, Mangesh Ghildiyal convened a meeting today to review the concerted efforts to make Ladakh carbon neutral which is in accordance with the Prime Minister's announcement of the same.
The concerned officials presented their projects on Carbon Neutrality and discussed their future action plans towards making Ladakh a carbon-neutral region.
Deputy Secretary, Mangesh Ghildiyal while reviewing the projects emphasized that since this is the announcement of Prime Minister, Narendra Modi, the targets have to be met on time. He stated that the Ministry of Environment Forest and Climate Change, and the Ministry of New and Renewable Energy have a major role to complete the announcement of PM. He added that the vision of Carbon Neutral Ladakh should be a 'Citizen Movement' and that can be achieved by focusing on 'energy literacy' to be imparted to the masses. Further, he added that people must strive for ways to reduce their carbon footprint to achieve this vision of Carbon Free Ladakh. He further added that the support of the people along with projects aimed at carbon neutrality can help us achieve this vision of Prime Minister Modi which is of utmost importance and we have to honour it.
Speaking on the same Secretary, Power, Ravinder Kumar added that it's important to develop Solar Passive Technology in Ladakh which would be successful in a region like Ladakh. He also suggested that an independent agency is required to monitor the developments. He also proposed an action plan to spread awareness on carbon neutrality especially in winter, at events such as Chadder Trek and other sports events.
Numerous upcoming projects in the fields of Solar Energy, Geothermal Energy, Wind Energy, Clean Hydrogen, Small, Mini & Micro Hydro were discussed in the meeting. Secretary Ravinder further informed that Geothermal Energy is being explored in Ladakh for the first time in India and a source of clean energy utilizing the earth's core temperature was planned. Also, informed that ONGC Energy Centre (OEC) is taking up the project with initial drilling and setting up of a 1MW mobile plant. He also informed that further exploration for commercial development of the source in the second phase is planned.
Furthermore, he added that as Ladakh has a good potential for wind energy, numerous sites were identified for setting up of 30 MW Wind/ Solar Hybrid plant at Shashithang Kargil.
Additionally, Secretary Power, Ravinder informed that SECI has proposed to take up the project under its Capex funding and NIWE has also been appointed to access the wind potential of the region. Also informed that wind mast for initial assessment has also been installed.
In the meeting, NTPC proposed to set up a Pilot Project for the Green Hydrogen plant in UT Ladakh. A 1.25 MW solar plant will be supplying clean energy to the Hydrogen plant. The Hydrogen from the clean plant will be used to power fuel cell-based vehicles (5 busses and 5 cars). If successful, the pilot project can be extended and this will have a strong impact on making the transportation sector go green. Ladakh has 15 numbers of Small, Mini & Micro HEPS with an installed capacity of 30.06 MW under operation. Ladakh has a total hydro potential of 1800 MW. And it was announced that projects are proposed in SDP for implementation.
Other initiatives for carbon-neutral Ladakh were also discussed in the meeting, such as Space Heating Solution, Solar Water Heater, Solar Lift Irrigation System, Implementation of Smart Grid system with smart metering, Phasing out of DG Sets in Leh and Kargil, 220 KV Nubra Zanskar Transmission Line, Development of Ring Network at 66KV and 11 KV for Leh and Kargil, Construction of 66KV Transmission Line, Substation, HT/LT network (Changthang Region).
The meeting was attended by Director, Tourism; Director, HUDD; Chief Engineer (PDD); Executive Director (AAI), New Delhi; AGM, NTPC, Leh; DFO Leh; DD Planning; GM (EIL); DGM (EIL); PD (LREDA); AD (FCS&CA); DIG, NWFH, ITBP; ADM Leh; RTO Ladakh and other concerned officials.