Dy Chairman Tsering Angchuk reviews the development of Government schools in Durbuk Block.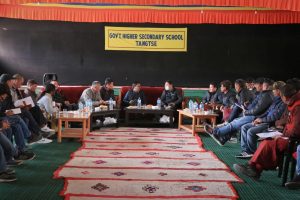 Leh, April 25: Deputy Chairman, LAHDC Leh, Tsering Angchuk (Executive Councillor for Education) visited Durbuk block to review the development of education quality in the schools of Durbuk Block. He was accompanied by Executive Councillor for RDD, Tashi Namgyal Yakzee and Councillor, Chushul, Konchok Stanzin.
He conducted a review meeting with the School Management Committee (SMC)members, District officers and Block officials. The officials present at the meeting apprised Dy Chairman about various developmental progress in various schools of Durbuk Block.
Dy Chairman stressed the proper infrastructure development and upgrading of the overall education quality in all schools according to the plans laid by the government. In this regard, he directed the officials to work in a parallel manner with SMC members taking special note of teachers' and students' welfare and convenience.
The meeting deliberated on the development of science laboratories, residential hostels, Libraries and Sports facilities in the schools of Durbuk Block. Further, educational schemes like Samagra Shiksha Scheme and Kasturba Gandhi Balika Vidyalaya (KGBV) schemes for the welfare of students were also deliberated during the meeting.
The meeting was attended by BDC Chairperson, Durbuk; Chief Education Officer (CEO), Leh; Block Education chairman, Durbuk; Tehsildar, Durbuk; Executive Engineer, R&B; District Education Planning Officer (DEPO), Leh; ZEO, Durbuk; AEE, PHE department; a representative from village education committee (VEC), concerned officials, Principal, headmasters, teachers and students of schools in Durbuk Block.