Dy Chairman Tsering Angchuk convenes meeting at Chushul Visits various schools to review developmental progress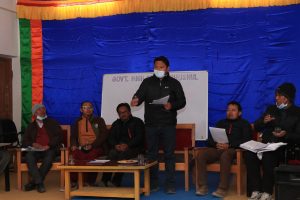 Leh, April 25: Deputy Chairman, LAHDC Leh, Tsering Angchuk (Executive Councillor for Education) convened a meeting at Government High School, Chushul, to discuss School Education development. He reviewed the developmental progress and issues of the school.
He was accompanied by Executive Councillor, RDD, Tashi Namgyal Yakzee; Councillor, Chushul, Konchok Stanzin; Nominated Councillor, Ven Konchok Tsephel, District Officers, Block Officials, Village Education Committee (VEC) Chairman, Sarpanch and nambardar, Chushul.
Dy Chairman lauded the people of Chushul village for their good coordination with government officials for the overall development of the school. He added that people should always work together with government officials for upgrading quality education in schools.
Councillor, Chushul extended his gratitude to Dy Chairman Tsering Angchuk, EC Tashi Namgyal Yakzee, nominated councillor Ven Konchok Tsephel, District Officers and officials for their visit to the schools.
Dy Chairman, Tsering Angchuk also visited Government Higher Secondary school, Tangtse; Government High School, Satho, Kargyam; Government Primary School, Chibra; Govt Primary School, Barma, Kherapulu along with respective ICDS centres. He reviewed developmental progress and related grievances of each school.
Dy Chairman handed over a Smart TV to Government High School, Satho, Kargyam to upgrade the education quality of the school.