Dy Chairman chairs meeting to discuss beneficiary oriented scheme for the establishment of Dairy, Fodder and Poultry farms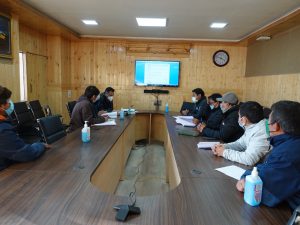 Leh, Jan 12: Deputy Chairman, LAHDC Leh, Tsering Angchuk convened a meeting today to discuss beneficiary oriented schemes on Dairy units, Fodder cultivation/production and Poultry farming in Leh district.
The meeting discussed the establishment of Fodder Cultivation/production, Dairy units and Poultry farming on a subsidized scale in the district.
The meeting was attended by EC Animal/Sheep Husbandry, Tashi Namgyal Yakzee; EC Minority Affairs, Ghulam Mehdi Ashoor; Councillor Lamayuru, Morup Dorjay; Councillor Nyoma, Ishey Spalzang and Chief Animal Husbandry Officer, Dr Mohd Iqbal.