DLSA Leh organises legal awareness on environment protection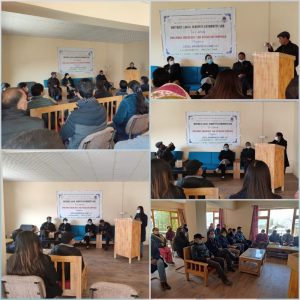 Leh, Nov 05: District Legal Services Authority (DLSA), Leh, today organised a legal awareness programme on protection of the environment at District Court Complex in Leh.
Chief Judicial Magistrate, Spalzes Angmo; Secretary, DLSA Leh, Phuntsog Angmo; Advocate Kunzang Ladon and Event Manager, Ladakh Ecological Development Group (LEDeG), Tenzin Motup, were the resource persons for the awareness programme.
The speakers spoke on various provisions related to the protection of environmental protection in Ladakh and the challenges faced by the region. They also talked about DLSA's work in protecting the environment.
Similarly, the expert resource person spoke on environmental protection in Ladakh, and the role played by NGOs in protecting the environment.
Participants included lawyers, PLVs and staff and the public.