Divisional Commissioner Ladakh reviews progress of flash flood related restoration works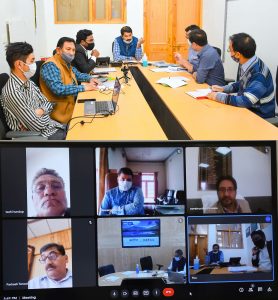 Leh, August 3: Divisional Commissioner, Ladakh, Saugat Biswas, today, chaired a meeting to review the progress of flood restoration in Ladakh.
A detailed discussion on the progress of the restoration of Irrigation Khuls, footbridges, houses, drinking water and electricity in both the districts of Leh and Kargil was held during the meeting.
Noting the progress made in restoration work, the Divisional Commissioner, Biswas advised that complete power connectivity, telecom service, and drinking water supplies need to be restored on a priority basis.
Divisional Commissioner directed the Executive Engineers of both the districts to complete all the temporary restoration within 7 days and to complete permanent restoration within 30-45 days.
"Only exceptionally complicated works may be allowed to take more time," he added.
He also directed the Executive Engineers of both the districts to prepare an inventory of machinery & equipment, manpower engaged in the restoration work and asked to submit the report within a day.
Additionally, it was informed that a committee has been constituted to examine the estimates of the damages caused by the flash floods. Biswas further directed Executive Engineers to expedite the work of distribution of pipes and other construction material and to take the restoration work on topmost priority.
Furthermore, Biswas also directed the Chief and Superintending Engineers to review the restoration work on a daily basis.
He further directed the Deputy Commissioners of both the districts to stay in touch with the Sarpanches and Nambardars and involve them in the restoration activities.
During the meeting, it was informed that water tankers have been deployed by the PHE department where pipelines are damaged. Divisional Commissioner directed deployment of adequate tankers till such time water connection are restored.
Meanwhile, Divisional Commissioner was apprised that the temporary restoration work has been completed in most of the flood-affected areas and in few villages the restoration is in progress.
The meeting was attended by Deputy Commissioner, Leh; Deputy Commissioner, Kargil; Chief Engineer, R&B Ladakh; Superintending Engineer, PWD Leh/Kargil; Assistant Commissioner Development, Leh/Kargil; Executive Engineer, I&FC/R&B/Construction; All Executive Engineers, Spl. Sub Division, of Leh & Kargil District and Dr. Asif Hussain, OSD to Lt. Governor Ladakh.