Divisional Commissioner, Ladakh reviews labour influx against COVID situation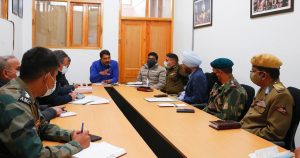 UT administration to enforce strict preventive protocols on labour entry
Leh, April, 17: A meeting was chaired by Divisional Commissioner, Ladakh, Saugat Biswas in connection with the labour management amidst the surge in Covid -19 positive cases in UT Ladakh.
Divisional Commissioner, Saugat Biswas pointed out that the number of cases is increasing and stressed the importance of containing the spread, ramping up tests, keeping vigil on those who are in isolation and quarantine. He said that actions must be taken at every zone to stop the virus from spreading.
He asked the concerned officials to ensure proper screening mechanism and quarantine facilities. He also asked to set up a mechanism to tie up with the mates and contractors who bring labours to Ladakh so that in advance they know how much labour is coming to Ladakh. Direction was also given to the concerned officials to identify the mates and contractors of the labourers.
He instructed the officials of VIJAYAK, HIMANK, MES and army to communicate the mates and contractors informing that without RT-PCR negative report they would not be allowed to enter into Ladakh. He also directed the officials of R&B, PWD, Irrigation and all development and engineering departments to formally convey to each contractor.
Divisional Commissioner was informed by Assistant Labour Commissioner, Leh that the Labour Department has engaged four agencies at various places for the registration of migrant labours.
Biswas also stressed the need for police officers to enforce the Covid-appropriate behaviour, including levying fines for violations.
Talking about the opening of Zojilla, Biswas asked DC, Kargil to be prepared and to coordinate with DC Ganderbal for proper checking of COVID negative certificate before entry of labour into Ladakh.
At the same time, he asked the concerned officials to take care of the labours and to provide assistance to them.
Biswas also urged for implementing the norm of track-test-treat and to ramp up testing facilities to ensure timely declaration of RT-PCR results and timely containment of the number of potential positive cases. The officials also appealed to people to follow Covid-19 safety norms as cases are rising.
The meeting was attended by Deputy Commissioner, Leh; Deputy Commissioner, Kargil; Station Commander, Leh sub-area, 14 Corps; Chief Engineer, HIMANK, BRO; Chief Engineer, VIJAYAK, BRO; SP, Leh; Chief Engineer (R&B) Ladakh; Director health, Ladakh; CMO Leh, ALC, Leh and ALC Kargil.