Div Com, Saugat Biswas convenes meeting of Divisional Valuation Board to finalize circle rates of immovable property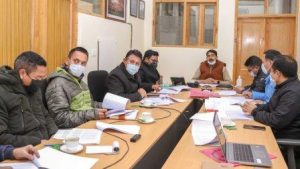 Leh, December 31: The Divisional Commissioner (Chairman, Divisional Valuation Board/ Inspector General of Registration) Ladakh, Saugat Biswas chaired a meeting of Divisional Valuation Board (DVB) to finalize the circle rates of the immovable property of Ladakh Division for the calendar year 2022.
While deliberating on the proposed new rates with the members, the Chairman, Divisional Valuation Board, enquired the concerned officials about the basis of increase and decrease of circle rates regarding cultivable and uncultivable lands and instructed that circle rates should neither be undervalued nor should be overvalued viz-a-viz with the prevailing market rate, and directed to revise the figures as per the principles of valuation of various categories of land.
Both the Deputy Commissioners of Kargil and Leh briefed the Chairman about the current rates of land in respect of urban and rural areas of District Leh and Kargil for the year 2022. The board decided the rates after detailed deliberations.
The meeting was attended by Deputy Commissioner, Leh and Kargil; Chief Conservator Forest, Ladakh; Chief Engineer, PWD, Ladakh; Director, Urban and Local Bodies, Ladakh; Director Agriculture, Ladakh; Additional Commissioner, Leh/ Kargil; Assistant Commissioner Revenue, Leh/ Kargil; State Tax Officer, Leh/ Kargil, and Deputy Secretary with Divisional Commissioner, Ladakh.