Div Com Ladakh Saugat Biswas visits Sodh Block Inspects ongoing developmental works under RDD, reviews NRLM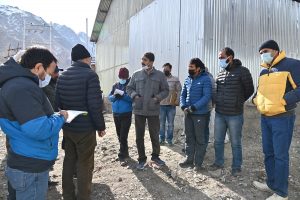 KARGIL, DECEMBER 12, 2021: Divisional Commissioner Ladakh Saugat Biswas who is also the Secretary Rural Development Department (RDD) today visited Sodh Block and other areas of Kargil to inspect various ongoing developmental works under RDD.
Additional Deputy Commissioner (ADC) Tsering Motup, Assistant Commissioner Development (ACD) Ghulam Mohammad, District Panchayat Officer (DPO) Padma Angmo, Deputy District Election Officer Nargis Banoo, Executive Engineer Gulzar Hussain Munshi, Tehsildar Kargil Saleem Wazir besides other officers accompanied the Divisional Commissioner during the visit.
To ensure judicious use of land available near the segregation plant at Ringmospang for construction of secondary shed and other related purposes, the Divisional Commissioner directed ADC Kargil to merge the land under MC Kargil with segregation plant.
He also directed the Executive Engineer to ensure black topping of road, tiling of floor of segregation plant besides construction of separate washrooms for men and women workers, at the earliest.
While reiterating the commitment of LG Ladakh regarding Carbon Neutral Divisional Commissioner directed Executive Engineer REM to maximum the utilization of solar heating double glaze glasses at under construction building of rural complex cum conventional hall at Kurbathang. He also directed ACD to explore usage of solar space heating in all library buildings across the district.
Saugat Biswas directed Executive Engineer to coordinate with the construction agency to procure remaining construction material before the closure of Zojila pass.
Divisional Commissioner also inspected the ongoing construction work at Civil Helipad Kurbathang.
While hailing the efforts of District Administration and LAHDC Kargil, Divisional Commissioner said UT administration has special focus on air connectivity of Ladakh region to provide uninterrupted air services during winters for people.
He directed the concerned officers to develop more space for construction of hangers (Parking space for helicopters), construction of terminals with proper facilities of scanning, frisking, lounge, VIP longue, waiting room, and separate ways for arrival and departure for passengers.
The Divisional Commissioner also informed that in future UT Administration has also plan to develop heliport at various places in Ladakh region.
At the construction site of BDO and BDC office of Sodh Block, Divisional Commissioner directed the concerned officer to make arrangements of sitting like furniture, mating and other allied necessary needs.
Saugat Biswas also directed to install puff tank for water reservoir and connect motor for water supply at the earliest.
While interacting with the Self Help Group (SHG) members at Yourbaltak, the Divisional Commissioner assured that UT Administration is committed to provide proper packaging and marketing solutions to sell local products at national and international markets.
In this regard, Saugat Biswas directed ACD Kargil to identify locations on Srinagar-Leh National Highway to construct shops to showcase their products for tourists.
He directed DPO to prepare an assessment report of apricot production in the area and informed that soon a machine will be provided for oil extraction of apricot.
The Divisional Commissioner, who is also Roll Observer for UT Ladakh, later visited Tumail, Apati and Poyen for house-to-house sample verification of electoral forms as a part of the ongoing Special Summary Revision of the photo electoral roll 2022 in Ladakh.
Saugat Biswas also corrected various forms filled by the voters related to electoral forms such as form 6 for new enrolment names, form 7 for deletion and duplicacy and form 8 for correction of particulars in electoral rolls.