Div Com Ladakh reviews supplies of essential commodities in light of Ramzan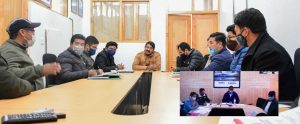 Leh, April, 05: Divisional Commissioner, Ladakh Saugat Biswas reviewed the arrangements for the holy month of Ramzan in both the districts of Ladakh here at the UT Secretariat today. Secretary, Ravinder Kumar also attended the meeting.
The Deputy Commissioners apprised the Div Com about the arrangements being put in place by their respective district administration for the holy month. The Divisional Commissioner impressed upon the concerned officer to ensure adequate arrangements to avoid inconvenience to the people.
The concerned officials from both districts updated the Divisional Commissioner on the stocking of all the essential commodities. Biswas also directed the district cooperative officials to submit a proposal for airlifting essential commodities specially stocking pertinent to Ramzan.
Director FCS&CA informed that adequate stock of essential commodities is available and regular supply to the districts would be maintained. The Div Com asked Deputy Commissioners to ensure the availability of essential commodities in their respective districts.
The Divisional Commissioner stressed upon the concerned departments to work with dedication and synergy so that people do not face any inconvenience during the holy month.
Div Com asked the DCs to submit a list of minimum basic requirement commodities that are needed urgently. Div Com also asked the concerned officers of IOCL & HPCL to ensure the supply of gas and oil in both districts.
The meeting was attended by DC, Leh/Kargil; Director FCS&CS; DRC Leh/Kargil; AD, FCS&CA Leh/Kargil; Senior Manager HPCL Leh/Kargil and President Merchant Association, Leh/Kargil.