Div Com, Ladakh reviews Intn'l Day of Yoga celebration preparedness in Ladakh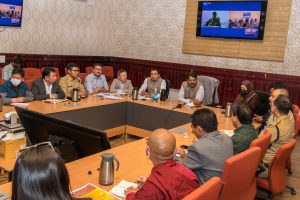 Leh, June 16: In view of the celebration of the 8th International Day of Yoga (IDY) with the theme 'Yoga for Humanity' to be observed on June 21, 2022, the Divisional Commissioner, Ladakh, Saugat Biswas chaired a meeting to take stock of the preparations in the Union Territory of Ladakh.
The Yoga Day shall be celebrated at Open Stadium Spituk and Pangong Lake in Leh, and at Khree Sultan Cho Stadium in Kargil. In that regard, the Divisional Commissioner instructed the officers of PWD, PHE, NIC, Police, Traffic Police, Health, etc. to make suitable arrangements at the venue.
SP Traffic, Leh Mohd Rafi Giri apprised that all preparations are made for smooth management of traffic and proper parking facilities for the participants.
Secretary Youth Services & Sports UT Ladakh, Ravinder Kumar suggested the participation of prominent citizens, ex-servicemen, sports personalities, public representatives, etc.
It was also instructed for suitable arrangements for hoarding, digital screen, and installation of public address system.
The International Day of Yoga in Ladakh will be celebrated in collaboration with Mahabodhi International Meditation Centre. This year's yoga day celebrations will be held on a grand scale in accordance with Azadi Ka Amrit Mahotsav. Around 200 people are expected to participate at Pangong Lake and about 2000 participants are expected to participate at Open Stadium Spituk. Similarly, in Kargil, over 1000 people are expected to participate.
Prime Minister will participate in the International Day of Yoga to be held at Mysuru, Karnataka at 7 am on June 21, 2022. The main event will also be aired live. The union territory of Ladakh will join in the pan-India observation with the active participation of school students, youth organizations, armed forces, and others. Sh. Kiren Rijiju, Minister of Law and Justice, Govt of India and Sh Ajay Kumar Mishra, MoS Home are scheduled to participate in Yoga Day celebrations from different locations in Ladakh.
The meeting was also attended by Deputy Commissioner/CEO, LAHDC Kargil Santosh Sukhadeva; Station Commander, Leh Sub Area, 14 Corps; Chief Engineer, HIMANK; Chief Engineer, VIJAYAK; DIG, Ladakh Police; Senior Superintendent of Police, Leh; Director School Education, Leh; Director, Urban Local Bodies; Director, Health Services; Director, Sowa Rigpa; Superintendent Engineer, PWD, Leh and Kargil; Superintendent Engineer, PDD; Superintendent Engineer, PHE; Representatives from Mahabodhi Meditation Centre Leh and other concerned officials.