District Superintending Engineer takes stock of dev. activities in Kargil town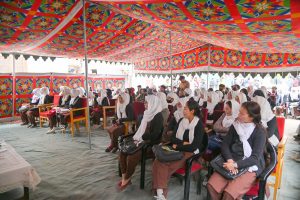 KARGIL, APRIL 21, 2022: District Superintending Engineer PW(R&B) Circle Kargil Nisar Ahmad Bagh today took stock of the developmental activities in Kargil town.
He was accompanied by Kacho Mehmood Executive Engineer R&B, Mohd Altaf Nagvi Executive Engineer M&RE PDD, Shafqat Hussain Executive Officer Municipal Committee Kargil and AEEs and JEs of PWD, PDD and Telecommunication.
The DSE discussed various issues related to beautification of Kargil town, early functioning of Van Stand, shifting of HT Lines, rectification and painting of various depilated poles and also reviewed the action taken on the directives of the CEC LAHDC Kargil and CEO LAHDC Kargil issued during the recent tour of the town.
The DSE also discussed widening of road on rare side of District Hospital Kargil, Construction of Girls Hr. Sec. School Kargil and constructional works of Industries, Handloom etc.
Principal Girl's Hr. Sec. School Kargil appreciated the pace of work and requested for some addition and alteration in the structure for which necessary directions were issued on spot to the Ex. Engineer R&B.
Later, the DSE visited ITI and Govt. Degree College Kargil. The Principal Govt. Degree College Kargil and Superintend ITI Kargil also accompanied him and discussed the developmental activities threadbare and inspected all ongoing works. Necessary directives for accelerating the pace of work were issued to the concerned agencies.