District Admin Leh signs MoU with NHPC Ltd. NHPC to install Oxygen Plant at CHC Khaltse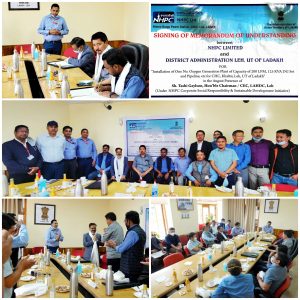 Leh, Aug 06: The District Administration, Leh signed a Memorandum of Understanding (MoU) with National Hydroelectric Power Corporation (NHPC) Limited at the Council Secretariat Leh today. NHPC Ltd is installing one Oxygen Generation Plant with a capacity of 200 LPM, a 125 KVA DG Set and Pipeline, etc. for Community Health Centre at Khaltse in Leh district under their Corporate Social Responsibility and Sustainable Development Initiative.
Officials from NHPC welcomed the guests and highlighted the achievements and contributions of NHPC to the Union Territory of Ladakh. GM NHPC Ltd, Rajil Vyas appreciated the Hill Council Leh and the District Administration Leh for their constant assistance towards NHPC in executing various initiatives in the district. He stated that to consolidate and take the developmental procedures further, forming a partnership brings together capacity, resources, and linkages towards a model and demonstration of sustainable development.
Speaking on the occasion, CEC Tashi Gyalson extended his gratitude to the team from NHPC for their assistance to the Hill Council in particular and Ladakh at large for several social welfare projects and initiatives for a long time. He highlighted the need for such an Oxygen plant at the sub-divisional level in Khaltse which would benefit the people of the sham region and the tourists traveling through the route since it is located at the center of Leh and Kargil districts.
DC Leh, Shrikant Suse stated that such a partnership will put in place a mechanism and procedures to facilitate the involvement of all the stakeholders in the development process in an accountable manner. He informed the meeting that the District Administration Leh is working in full swing and preparing to combat any critical situation in the future like the recent wave of Covid-19.
Presenting the note of thanks, Councillor Khaltse, Lobzang Shesrap extended his gratitude to the entire team of NHPC Ltd. for the number of contributions to the region of sham after the establishment of the Nimoo-Basgo Hydral Project at Alchi. He also expressed his sincere gratitude to the Chairman, LAHDC Leh, and DC Leh for their constant support in strengthening the developmental requirements in the region.