Diskit Gonpa celebrates 80th birth anniversary of Thiksey Khampo Rinpoche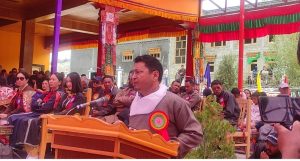 Leh, 20 June: The 80th birth anniversary of His Eminence Thiksey Khampo Rinpoche was celebrated with great enthusiasm at Diskit organised by the Diskit Gonpa .
His Eminence Thuksey Rinpoche; His Eminence Khen Rinpoche; Deputy Chairman, LAHDC Leh, Tsering Angchuk; Executive Councillor (EC) Minority, Ghulam Mehdi; EC Animal Husbandry, Tashi Namgail Yakzi; EC Agriculture, Stanzin Chosphel; Councillor Panamik; Lamas of Samling Gonbo and people from different community of Nubra also attended the event.
Speaking on the occasion, His Eminence Thiksey Rinpoche appreciated the organiser for their efforts. He emphasised on unity and harmony between different communities.
Deputy Chairman, Tsering Angchuk praised the immense contribution of Thiksey Rinpoche in the politics and society of Ladakh, including national security and development of education.
A colourful cultural program was also presented by artists from different villages of Nubra and students of Higher Secondary School, Diskit and Lamdon Model School, Diskit.