Disaster management training program for local volunteers concludes in Kargil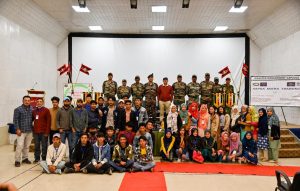 KARGIL, JUNE 03, 2022: Ladakh Disaster Management Authority (LDMA) and District Disaster Management Authority (DDMA), in collaboration with 8 Mountain Division, 6th Batallion (Madras Regiment) today concluded the 10-days long disaster management training for local youth in Kargil and Batalik under the Aapda Mitra scheme.
Commanding Officer, Col. Kabul Tyagi, Chief Agriculture Officer Kargil, Kacho Muhammad Ali Khan, officials of DDMA and 8th Mountain Division were present on the occasion.
In the 10-day long training, the volunteers were trained in fire management, first aid, rope rescue, lifting, emergency stretcher making and rapid action in emergency situations.
While addressing the volunteers, Commanding Officer, Col. Kabul Tyagi appreciated the District Administration for conducting the training on a very short notice.
He said that climate change is a major concern across the globe which is causing unpredictable disasters and training on disaster management is necessary.
He instructed the trainees to equip themselves with more knowledge in the field and always keep themselves ready for any type of disaster.
The Chief Agriculture Officer said the best worship is to serve mankind and to spent time in social work. He instructed the volunteers to make proper use of the equipment and also disseminate the skills they learned from the training to others.
The CO Col. Tyagi and CAO distributed first aid kit, Aapda Mitra uniforms and other necessary equipment to volunteers for disaster management.