CEC Feroz Khan chairs meeting on enrolment drive, left out children with special focus on specially-abled children Directs Education Department to coordinate with other concerned departments, NGOs to conduct fresh survey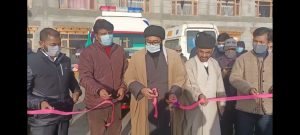 KARGIL, DECEMBER 24, 2021: Chairman and Chief Executive Councilor LAHDC Kargil Feroz Ahmed Khan today chaired a meeting at Council Secretariat regarding enrolment drive on the theme "no child to be Left behind" with special focus on enrolment of specially/differently abled children.
Chief Education Officer Nazir Ahmed Wani, District Social Welfare Officer Aga Syed Jamal, ZEO Kargil Nargis Banoo, CDPO Taisuru Parveen Akhtar, CDPO Drass Syed Jamal, Coordinator Samagra Shiksha Abhiyan Mohammad Shabir, Zonal Education Officers along with representatives of various NGOS including Rewa&Kasko, rZamba, 17000 ft Foundation and project Shoqpa were in the meeting.
In his introductory remarks, the CEC stressed on inclusion of all children left behind with a special focus on the enrolment of specially/differently abled children in the district.
He directed the Education Department to coordinate with other concerned departments and NGOs working in the education field, to conduct a fresh survey of children left behind in obtaining education which is the primary right of every child irrespective of physical, social and economic challenges.
CEC Khan said apart from government schools, private schools and Anganwadi centers should also be included in the survey so that no such case is left out.
The CEC also said that the survey should be completed at the earliest so that in the next working season, necessary infrastructure and other related measures would be taken in schools.
On the occasion, CEO Kargil informed the meeting that the format of the survey has been prepared and will be distributed to each Zonal Office to conduct a survey in coordination with PRI members of concerned panchayats.
CDPO Drass Syed Jamal suggested that under the supervision of BMOs of respective medical blocks assessment camps should be organized to identify the percentage of disability of children.
To conduct the survey more efficiently, Khushbu Joshi from Project Shoqpa suggested that awareness camp should be organized for the general public which would clear confusion among the people. She said people also should be educated about the various benefits of this survey.
In view of the menstrual hygiene of girls in schools, Khushbu suggested that reusable pads should be made available in schools so that in case of any emergency, girls can have easy access to sanitary pads.
She also assured that their organization will facilitate workshops and training sessions in order to spread awareness among the girls in various schools of the district.
CEC Khan appreciated all the suggestions and solutions that came up during the meeting. He also said that LAHDC Kargil is committed in building an inclusive environment along with the proper infrastructure for the children irrespective of various challenges they face in society.