Director RDD inaugurates CFCs in Kargil Directs to frame DPR for all pending works of CFCs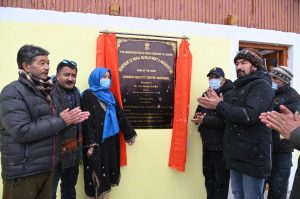 KARGIL JANUARY 19, 2022: Director Rural Development Department (RDD), Ladakh, Tahir Hussain Zubdavi today inaugurated Common Facilitation Centre (CFCs) and Panchayat Ghars at Chanigund, Hardass, Akchamal and Yourbaltak- B.
The director RDD instructed the concerned officers to frame the DPR for all the pending works of the CFCs so that the remaining works are completed on time.
He stressed on PRI members to use Panchayat Ghars for public meetings in their respective villages.
While stressing on quality and quantity parameters, the director RDD, stressed on officers to work in coordination for the execution of all public welfare schemes at the grassroots level.
The director RDD also inaugurated high mast light and visited the newly-constructed Handloom Centre at Chanigund.
Meanwhile, PRI members put forth a number of demands including a compound wall of newly constructed CFCs, tile work for CFC compound, construction of community halls, renovation of existing Panchayat Ghars and hand pump for the CFCs.
The director RDD gave a patient hearing to all the public issues and demands of the PRI members and assured them that all the demands will be fulfilled very soon.
On the occasion, Assistant Commissioner Development (ACD) Kargil, Ghulam Muhammad, informed that under various schemes, RDD has constructed public libraries, public Sarai, BDC offices, BDO offices, Panchayat Ghars, public parks, public toilets, sanitation sites, footpaths among other developmental works.
The ACD Kargil, Ghulam Muhammad, Chairman Block Development Council (BDC) Kargil, Khatija Banoo, Chairman, Block Development Council (BDC), Sodh block, Zakir Hussain, Block Development Officer (BDO) Kargil, Yasir Hussain Wani, BDO, Sodh Mukhtar Ali, Sarpanchs, Panchs besides other concerned officers were also present on the occasion.