Director Industries & Commerce Ladakh inaugurates 2 day training programme on apricot juice/jam production Stresses to take maximum benefits from the workshop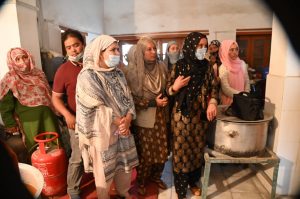 KARGIL, JULY27, 2021: Director Industries and Commerce UT Ladakh Moses Kunzang inaugurated 2 day training programme on apricot juice and jam preparation, processing, branding and marketing for National Rural Livelihood Mission (NRLM) SHG Workers of Kargil and Sodh block at Horticulture Training Center Kargil here today.
The training programme has been organized by the Department of Industries and Commerce in collaboration with the Rural Development Department (RDD) Kargil under the Van Dhan Vikas Yojana.
Assistant Commissioner Development (ACD) Kargil Ghulam Muhammad, General Manager District Industries Center (DIC) Kargil Iftikhar Nasim, concerned officials of RDD and Industries and Commerce and SHG Workers were present on the occasion.
Speaking on the occasion, Director Industries and Commerce Moses Kunzang said that the programme has been organized under Van Dhan Vikas Yojana of the Ministry of Tribal Affairs in which the main component is to reach every village, provide them necessary training plus monetary help for procurement of basic utensils and provide them support in branding and marketing of apricot products.
The Director Industries and Commerce further said that it is just a beginning, and in future series of workshops will be held at village level, and in this regard a master trainer has been invited from Leh for imparting training the beneficiaries. He further said that our objective is to provide maximum support to the SHG workers who carry an aptitude for enterprising.
Moses Kunzang interacted with the SHG Workers from different villages of Sodh and Kargil block and suggested them to take maximum benefits of the workshop by learning about processing, packaging, branding and marketing of apricot products.