Director IIM Jammu-led-delegation calls on CEC Gyalson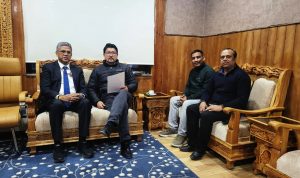 Leh, Apr 28: A delegation led by Director, Indian Institute of Management (IIM), Jammu, Prof B.S Sahay, called on the Chairman/CEC, LAHDC Leh today.
The delegation apprised CEC Gyalson of their proposal to start an Off-Campus of IIM Jammu in Ladakh to promote the growth and development of UT Ladakh by taking initiatives in the areas of Incubation and Entrepreneurship, Skill Development, Executive Education, Advisory Services, etc.
CEC Gyalson expressed his concern over local students migrating to different cities outside Ladakh and studying in premiere professional institutes amid various challenges. He stated that having such institutes in Ladakh would overcome such challenges and help youth to enhance professional and develop entrepreneurship skills. He also stated that having professional skill training institutes like IIM with programmes suitable to the local environment and economic activities would gradually help in building more opportunities for the youth.