Director FCS&CA Tsering Motup takes stock of supply position of essential commodities Reviews financial and physical progress of various ongoing projects under the department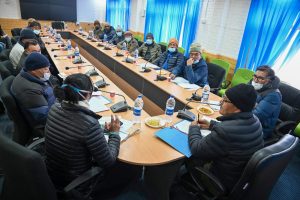 KARGIL, DECEMBER 16, 2021: Director Food Civil Supplies and Consumer Affairs (FCS&CA), UT Ladakh Tsering Motup, who is also Additional Deputy Commissioner (ADC) Kargil, today convened a meeting of the department to review stock, supply position of essential commodities in view of prevailing situation.
The meeting was held at directorate office in Kargil to review the progress and functioning of the department and was attended by Assistant Director Headquarter Ruth Mary, Chief Inspector Leh Lamchong Jagmath, Chief Inspector Kargil Akbar Ali and Mohd Yousuf and Tehsil Supply Officers (TSO) Leh and Kargil district.
The director took stock of financial and physical progress on various ongoing projects under the department as per Capex and SDP budgets.
The AD Headquarter briefed the ADC about the status of winter stocking while the meeting also discussed various issues and concerns of the department.
The meeting informed that stocking has been completed in 9 sale centres in Leh and 25 sale centers in Kargil that are located at far-flung areas and remain cut-off due to heavy snowfall. It was further informed that there are 193 sale centres in Kargil and 213 in Leh.
Regarding kerosene oil, it was informed that a total of 35 lakh litres have been stocked of which 17 lakh litres has been transported to Leh while another 17 lakh litres is in process of transportation for Kargil district.
It was also informed that a new notification issued by the Ministry of Home Affairs (MHA) has ordered to conduct a drive to delete the individual beneficiaries that are recorded double in official records of the department.
The Assistant Director informed that the MHA has identified a total of 5001 duplicity cases.
The Director instructed to conduct a drive immediately to delete the duplicate beneficiaries and asked to submit the report in every five days to complete the process by December end.
The Pradhan Mantri Garib Kalyan Anna Yojana (PMGKAY) was renewed under which ration has been transported to respective stores for distribution among eligible beneficiaries.
He also assured to take up the issue of transportation of ration to Zanskar sub-division under the said scheme with truck union to provide vehicles for transportation of ration so that consumers do not face any inconvenience.
The director FCS&CA further enquired about status of Aadhaar seeding of ration cards.
During the meeting, the Assistant Director Ruth Mary informed that Aadhaar seeding of 98.82% of NFSA beneficiaries and 98.67% for non-NFSA beneficiaries has been completed in Kargil.
Similarly, in Leh district, the Aadhaar seeding of 99.99% has been completed for both NFSA and non-NFSA beneficiaries.
Director Motup instructed officials to conduct the drive to delete duplicate beneficiaries that will further increase Aadhaar seeding of ration cards.
The director also enquired and took stock of physical and financial progress of construction, and renovation works of ration stores, sale centres, kerosene tanks, purchase of vehicles besides other related issues of the department.
The director instructed all TSOs to provide report of construction and renovation works in their respective Tehsils in terms of physical and financial progress with photographs.
The meeting further discussed heating arrangements for TSOs, storekeepers, vehicle procurement in the department, computers, stationary items etc.