Director FCS&CA conducts maiden inspection of various developmental works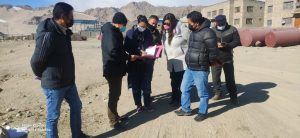 Leh, Dec 30: Director, Food Civil Supplies and Consumer Affairs, UT Ladakh, Tsering Motup conducted maiden inspection of various ongoing developmental works of the department, after assuming his charges. He was accompanied by Assistant Director, CAPD, Leh; Tehsil Supply Officer (TSO), Leh; Engineers of Public Works Department (PWD), Rural Development Department (RDD) and other concerned officials.
Director, FCS&CA inspected the works carried out under the Special Development Package 2021-22, such as the purchase of kerosene storage tanks and the required civil works for installation, construction of the office of District Consumer Disputes Redressal Commission and the renovation of different food godowns located at Ibex Colony, Dambuchan and the walling of food godown at Saboo under State Plan. He also visited the rice granary stores and sale centres of the department at Dambuchan, Agling.
Director Motup instructed Assistant Director, CAPD, Leh to prepare DPRs from executive agencies within 15 days and allocate the kerosene storage tanks at the respective identified areas at the earliest. The Director expressed satisfaction over the renovation of godowns carried out by RDD at Dambuchan. He also directed the TSO, Leh and concerned storekeepers to maintain hygiene at rice granary stores and sale centres and ensure fair distribution of rations.
Additionally, Director Motup shared that the District Consumer Disputes Redressal Commission would be established in both the districts to address public grievances and also impressed upon concerned officers to ensure proper utilization of funds for developmental purposes.