Director Animal Husbandry tours Kargil Launches free distribution of pelleted feed under winter contingency plan at Sapi village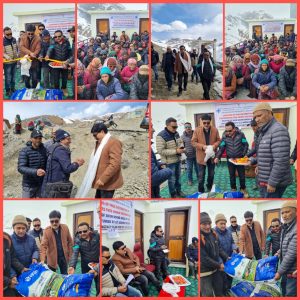 KARGIL, MARCH 20, 2022: Director Animal/Sheep Husbandry and Fisheries, Dr Muhammad Raza today toured Kargil and launched the free distribution of highly concentrated pelleted feed under winter contingency plan funded by the UT Administration from Sapi village.
The director was accompanied by Chief Animal Husbandry Officer Kargil, Dr Muhammad Ismail, District Sheep Husbandry Officer Kargil, Dr Iftikar Hussain and Assistant Director Fisheries Kargil, Murtaza Ali. The visiting team was obsequiously received by PRI representatives with the traditional scarf (Khataks).
On the occasion, the director reiterated that the department is committed to strengthen the economy of far-flung areas of the region by making sheep and goat rearing economically more vibrant and viable through infusion of farmer-friendly schemes.
Dr Raza added that the distribution of highly concentrated feed is one of such scheme which would have great impact on livestock productivity.
He further said that under the envisaged program, at first instance, the department has prioritized to distribute free feed among farmers of snow-bound villages as most of the year their traditional feed grazing land remains under snow.
While interacting with farmers and PRI members, the Sarpanch put forwarded some demands before the director to which he assured that all the demands shall be taken care of.
The Sarpanch also demanded to establish a sheep extension unit at Sapi village and to provide a wool shearing machine to which the director assured them that in near future the department would take all measures to establish a sheep extension unit in their village.
It was informed that meanwhile, the sheep husbandry department would facilitate all their support from the already existing Animal Husbandry extension centre till the permanent arrangement is made and directed DSHO Kargil to provide one wool shearing machine.
Speaking at the event, DSHO Kargil, Dr Iftikar Hussain stressed on farmers to increase their livestock holdings for maximum productivity as the region is endowed with vast pastures.
He agreed to provide a wool shearing machine subject to the condition that PRI members shall provide names of two persons who shall be trained at their departmental sheep rearing unit so that they become well acquainted to handle and use the wool shearing machine.
CHAO Kargil, Dr Muhammad Ismail assured to provide solar lamps and tarpaulins for high land pasture during the summer grazing months to which the PRI members and farmers expressed their gratitude for extending the support.
Assistant Director Fisheries, Murtaza Ali while hearing the demands of PRI members for construction of Fish Ponds to which he assured that the department would consider to provide financial assistance for the unemployed educated youths of the village for the establishment of Trout Rearing units under CSS PMMSY Scheme during the financial year 2022-23.
He said it would provide unemployed youth an opportunity to improve their socio-economic condition and earn their livelihood.
Meanwhile, the Sarpanch and other PRI members expressed their gratitude to the AD Fisheries for agreeing and supporting their demand.
The program was attended by Sarpanch, Panches, Nambarder, farmers besides staff members of Sheep Husbandry Department Block Kargil. The program concluded with a vote of thanks presented by BVO Trespone, Dr. Fida.