DIPR Kargil organizes workshop on media reporting, editing, photography, GeM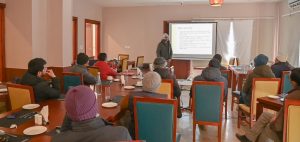 KARGIL, FEBRUARY 17, 2022: Department of Information and Public Relations (DIPR) Kargil, Ladakh today organized a workshop on media reporting, editing, photography skills and government e-market procurement at Hotel Kargil which was attended by all employees of the department.
For media reporting and editing, the resource person was Mansoor Peer, editor DIPR Kargil who taught the basic reporting and editing skills to the reporters of the department.
He explained in detail the reporting techniques including writing a press release, writing a news story, writing an interview and editing a story.
Peer also explained the fake news including misinformation and disinformation and the tools available to identify the fake news. He also talked in detail about the countermeasures for fighting fake news and fact-checking organizations.
Peer also briefed the participants on other important tools like reverse image search and video and text verification tools which help to recognize the fake news.
Karamjeet Singh, a freelance photographer from Kargil, spoke about the basics of photography and gave on-spot training to the photographers.
He explained different types of photography including portrait, sports, wildlife, landscape and also explained the different formats that are used in photography.
In the afternoon session, Muhammad Hussain, Assistant Accounts Officer, Directorate of Rural Development Department UT Ladakh spoke about government e-market procurement and their relevant section of General Financial Rule (GFR) 2017.
The participating employees thanked DIPR Kargil for organizing the workshop and hoped that such workshops should be organized in the future as well in order to improve the skills of the staff for better functioning of the department.