DIG Ladakh Police, Sheikh Junaid convenes maiden meet with stakeholders in Kargil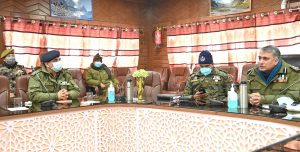 KARGIL, JANUARY 08, 2022: To ensure people-friendly policing, DIG Ladakh Police, Sheikh Junaid Mehmood today convened a maiden meeting after his appointment in Ladakh with different stakeholders of Kargil including political, religious and civil society members here at Conference Hall Baroo.
Additional Superintendent of Police (ASP) Choudhary Iftikhar Ahmad, representatives of Imam Khomeini Memorial Trust, Anjuman Jamiat Ulema Isna Ashriya Kargil, Ahl Sunnat Wal Jamat, Sikh Community, Anjuman Sahib Zaman, Anjuman Bahbudi-e-Sadat, President District Congress Committee, Spokesperson Bharatiya Janata Party, Panchayat Coordination Committee, Taxi Operators and Owners Association among others attended the meeting.
All the stakeholders appreciated Ladakh Police for their contribution during the Covid-19 pandemic, Zojila Pass management, educational programs, youth-related programs and handling of law-and-order issues smoothly.
The stakeholders appraised the DIG about various issues related to the police department in Kargil district. The DIG gave a patient hearing to the public issues and grievances.
Responding to the demands, the DIG assured to make arrangements of equipment required in times of disaster management and humanitarian interventions. The DIG appreciated the organizations for their role and support to the police department in hard times.
He further assured to resolve all the issues that are directly concerned to the police department and assured to take up other issues with concerned authorities or related departments.
DIG Junaid appealed to all the stakeholders to cooperate with the Ladakh police to ensure impartiality, equality before law, and transparency.
He further said that traditional crimes are at par to zero in Kargil district and appraised the public regarding crimes and cybercrimes where the cheaters are involved from outside the region.
The DIG assured that they smoothly conduct and handle all the issues with cooperation and coordination with the general public.