DIET Leh holds District Level Consultation meeting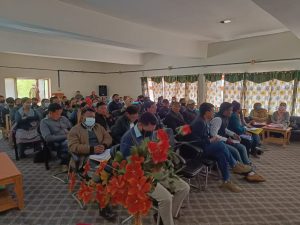 Leh, April 20: The District Level Consultation (DLC) meeting was held at the District Institute of Education and Training (DIET) Leh under the guidance of Prof R.K Sharma of Regional Institute of Education (RIE) Ajmer and Dr P.D Subhash of NCERT New Delhi.
Deputy Chairman, LAHDC/EC Education, Tsering Angchuk was present as the chief guest and Deputy Commissioner, Leh, Shrikant Suse was the guest of honour.
The DLC meeting aims to provide local inputs for the preparation of the National Curriculum Framework (NCF).
Around 70 members from different departments attended the meeting and provided their inputs and insights for the questionnaire developed by NCERT in four areas of NCF (SE, TE, ECCE and AE).
Chief Education Officer, Leh, S D Namgyal; Principal, DIET, Leh and Principal, DIET Kargil were also present on the occasion.