DIC Leh organises awareness camp on PMFME scheme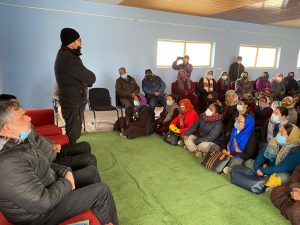 Leh, Feb 23: The District Industries Centre, Leh organised an awareness camp regarding the Pradhan Mantri Formalisation of Micro Food Processing Enterprises (PMFME) scheme at Chuchot Yokma and Chuchot Gongma Community Hall today.
The awareness camp was attended by the Self Help Group (SHG) members from adjoining villages such as Chuchot Shamma, Chuchot Gongma, Chuchot Yokma, Stok, Thiksey, Matho, Shey and Stakna and other interested participants.
The Industrial Promotion Officer (IPO), Leh, Mohd Zakirya informed the participants about the significance of the PMFME scheme in detail. He informed that the centrally launched PMFME scheme provides loans at subsidized rates to beneficiaries interested in establishing food processing units for livelihood sustenance and income generation.
IPO Leh, Zakirya spoke about the support provided to SHGs undertaking food processing activities in terms of seed capital of Rs 40,000 per member of SHG, support to individual SHG member as a single unit of food processing industry with credit linked grant of 35% with the maximum amount being Rs 10 lakh. He also informed about the support for capital investment given to SHG at the federation level with a 35% credit-linked grant. He also spoke about the procedure, criteria and relevant documents required for its application.
IPO Leh also informed about the assistance and hand-holding support provided by the District Industries Centre to the interested applicants and the various training provided to help and guide them at each level. He spoke about the importance of registering food processing enterprises, branding and marketing aspects to enhance the salability of the food products.
Mentioning seabuckthorn as One District One Product (ODOP) of Leh district, he urged for establishing sea buckthorn-based food product unit under the scheme and additionally informed that existing units are also eligible to take credit-linked grant at 35% subsidy under the PMFME scheme.
Lead District Manager (LDM), Leh also assured to provide required assistance and support in availing benefits of PMFME scheme.
The awareness camp was conducted with strict adherence to Covid-19 SOPs.
Functional Manager, DIC Leh; Lead District Manager, Leh; Sarpanches and other concerned departmental staff were also present.