Department of Tourism, Kargil celebrates International Mountain Day 2021 at Tangole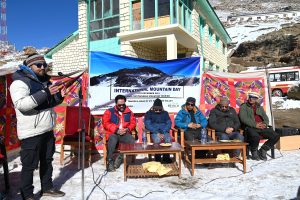 KARGIL, DECEMBER 11, 2021: Department of Tourism, Kargil organized an event on the occasion of International Mountain Day 2021 on the theme "Sustainable Mountain Tourism" at Tangole here today.
On the occasion, Executive Councillor for Tourism Er Phunsuk Tashi presided as the Chief Guest and Executive Councillor for Works Syed Abass Rizvi as guest of honor. While, Councillor Parkachik Haji Ghulam Mohammad, other Tourism stakeholders viz hotel owners, sportsmen, pony walas, Cultural groups and public from Tangole were present.
Speaking on the occasion, EC Phunsuk Tashi said that the Nun Kun glacier in the lap of which the event was organized, was world famous for trekking three decades ago. But due to some unfortunate events the tourism spot remained out of focus. He emphasized on the need to review the glory of Nun Kun Glacier on tourism sites.
He further said that Tourism in Ladakh is limited to only a few areas, resulting in overpopulation in the area. He suggested that there should be efforts to divert the tourists to other areas especially towards villages to boost up the rural economy.
He said that the aim of today's event is to promote tourism in the region while educating and spreading awareness to public, tourists, and tourism stakeholders towards sustainable tourism. Tashi further emphasized on educating the youth and tourists towards do's and don'ts to ensure sustainable tourism in the region.
EC Tashi said that the population in mountains is directly dependent on snowfall and a balanced ecosystem. A disturbance in the ecosystem would directly affect the lives of people in the mountain that would probably lead to their migration due to lack of water.
Thus, on this day we have the responsibility to create awareness among the public towards sustainable tourism and sustainable use of resources.
Councilor Haji Ghulam Mohammad lauded the Department of Tourism for conducting the event in the area. He further mentioned that there is a rock garden in the village Tangole for which the LAHDC has approved Rs 5 lac for development.
On the occasion, President Ladakh Adventure Sports Association Shahnawaz Hussain and President Roots Ladakh Muzammil Hussain also awarded the gathering regarding the importance of mountain day and sustainable mountain tourism.
Mindok Tsar Dramatic club also presented a colorful cultural programme and enthralled the public.
Later, the guests facilitated certificates and awards to those who have contributed to the development of tourism, sports, and culture.