DEO Kargil Santosh Sukhadeve conducts day long training workshop for election officials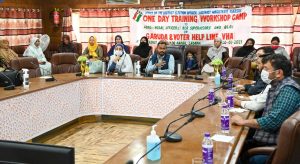 KARGIL, SEPTEMBER 30, 2021: Deputy Commissioner and CEO, LAHDC, Kargil Santosh Sukhadeve who is also the District Election Officer (DEO) Kargil conducted a day long training/ workshop on Garuda and Voter Help Line (VHA) for AEROs/ Nodal Officers, Booth Level Officers (BLOs) and Supervisors at Conference Hall Baroo here today.
Speaking on the occasion, the District Election Officer Kargil said that the role of BLOs is vital in the whole election process. He further stated that while the Special Summary Revision is being conducted in the district after a gap of two years, the electoral rolls are also being updated.
DEO Santosh Sukhadeve instructed the BLOs to work sincerely and seriously to ensure proper updating the electoral roll. He further instructed them to conduct house to house survey to register new voters, ensure updation, make necessary modifications wherever required and complete the electoral roll within the set timelines.
The District Election Officer Kargil stated that he himself will supervise the whole process pertaining to the updation of the electoral roll.
Meanwhile, the training session was held in two phases where detailed training on mobile applications like Voter Help Line and Garuda was imparted to the participants.
The master trainers enlightened the BLOs about different aspects of the registration of BLOs, polling booths, updation of photographs, upgradation of facilities, registration of new voters, updation of details and other relevant aspects.
It was informed that the VHA is aimed to ease the public and voters to make necessary modifications from their end easily from home using mobile phones.
The master trainers further instructed the BLOs for Special Summary Revision process that includes house to house survey, registration of new voters, verification of applicants and their details, publication of new electoral list, distribution of new voter identity cards and celebration of the National Voters' Day.