Delegation of Teachers, Semchan Welfare Society, Former President, ZBA call on Hon'ble Lt Governor, Brig (Dr) BD Mishra (Retd).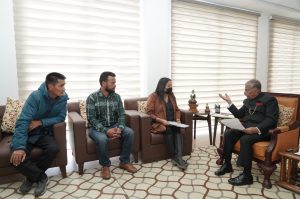 Leh, Sep 19, 2023: A delegation comprising of Teachers (National & State Awardees) including Shri Sonam Gyatlsan, Shri Muhammad Ali Akhone and Shri Mohd Mustafa Kamal called on the Hon'ble Lieutenant Governor of Ladakh, Brigadier (Dr) BD Mishra (Retd) at Raj Niwas. The delegates apprised HLG about their promotion and double increment and informed that they submitted a proposal in this regard in 2021. The delegates requested HLG's intervention to expedite the process in this regard. President, Ladakh General Line Teachers, Kargil, Shri Mohd Mustafa Kamal requested the HLG to enhance the pay scale of teachers of Ladakh. The HLG directed Principal Secretary, School Education Department, Ladakh to examine the matter.
A delegation from Semchan Welfare Society led by its President, Smt Jigmat Nurzin Angmo called on HLG at Raj Niwas. They spoke of the initiatives taken by them towards care of sick and frail stray dogs in Leh and also apprised of their work in the ensuring birth control steps. The HLG suggested Smt Angmo to contribute into a movement aiming towards achieving a feral dog free Ladakh and also suggested to start the work towards encouraging the practice of adoption of maximum two dogs of same gender in Ladakh through proper registration.
Former President, Zanskar Bhuddhist Association, Shri Tsewang Chostar called on the HLG at Raj Niwas. Shri Chostar apprised the HLG about the various demands, viz. Construction of Naro Sani Photang at Sani, Zanskar, reallocation of existing road at Sani Lake, Construction of compound wall and Chowkidar Shed at Dr Ambedkar's Park at Padum, Zanskar. He requested HLG's intervention to develop agriculture, dairy, Seabuckthorn, Buckwheat, medicinal plants, handicrafts, tourism and renewable energy sectors. The HLG directed Chief Engineer, PWD, Ladakh Shri Tashi Chombel to examine the matters and suggested Shri Chostar to meet Shri Chombel to discuss the matters.
Retired Subidar, Shri Tsewang Dorjay, a resident of Stok village called on HLG at Raj Niwas. Shri Dorjay apprised HLG that his wife is working as Tradesman Mate at Chandigarh and requested HLG for transfer of his wife from Chandigarh to Leh. The HLG assured Shri Dorjay to take the matter with concern authorities.