Delegation of Shakar Chiktan Tourism Development Committee calls on EC Tourism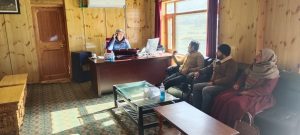 KARGIL, 21 DECEMBER, 2021: A delegation of Shakar Chiktan sub division Tourism Development Committee under the Chairmanship of Executive Councillor Health and patron of Shakar Chiktan Tourism Development Committee Mohsin Ali today called on Executive Councillor for Tourism at Council Secretariat.
Chairperson Block Development Council (BDC) and Chairman Shakar Chiktan Tourism Development Committee Sayeeda Banoo, Assistant Director Tourism Aga Toha, Kacho Shamim General Secretary of Ladakh Olympic Association Kargil and Vice President of Ladakh Archery Association, Muhammad Ali Khan Secretary Kargil Ice and Snow Sports Club and Sarpanchs of Shakar Chiktan were also present in the meeting.
The delegation raised issues to inclusion of Ladakh Winter Carnival in Ladakh Tourism Calendar and to conduct more events at different venues of Shakar Chiktan like Mamani, Chakku, food festival, ice hockey tournament, cultural program, archery, Losar festival, women's chair race, tug of war besides other sports activities.
After threadbare discussions, the EC Tourism assured the delegation and decided that the Ladakh Winter Carnival, Mamani traditional festival at Chiktan, ice hockey tournament at Chiktan, archery tournament at Chiktan, cultural and others program at Chiktan, Losar festival at Bodh Kharboo, apricot blossom festival at Sanjak and Dargoo would be organized in Shakar Chiktan sub division.