Delegates from CSIR-Institute of Himalayan Bioresource Technology Palampur visit GDC Kargil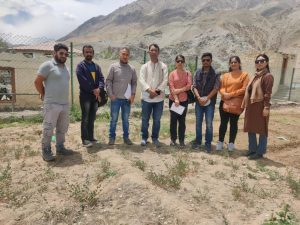 KARGIL, MAY 26, 2022: A delegation from CSIR-Institute of Himalayan Bioresource Technology (IHBT), Palampur today visited GDC Kargil to discuss the establishment of a floral garden under the 'Floriculture Mission' for educational and aesthetic purposes.
The members inspected the proposed site for the reestablishment of Botanical Garden and discussed layout plan for the landscaping and establishment of various units in the garden.
A discussion was also held on the long-term cooperation of IHBT regarding student exchange and training of faculties in relation to the cultivation of floral, medicinal and aromatic plants.
The IHBT team assured of providing a layout plan of the same and plant materials to be cultivated in the garden.
Dr Javed, in-charge principal while interacted with the team and emphasized on providing indigenous plant materials with medicinal and aromatic importance for cultivation in the garden.
The team also assured to provide further technical support and guidance in the establishment of a new Botanical Garden in the college. The visit was coordinated by faculty members of Department of Botany and Biotechnology.
It was also decided to sign a Material Transfer Agreement (MTA) with IHBT Palampur for further implementation of the Floral Mission.