Debriefing session on JSSM held at Council Secretariat Leh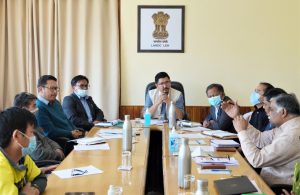 Leh, Sep 29: Under the chairmanship of the Chairman/CEC, LAHDC Leh, Advocate Tashi Gyalson, a debriefing session on Joint Supportive Supervision Mission by the officials of Central TB Division, Ministry of Health and Family Welfare and Health Department Leh took place at the Council Secretariat Leh today.
CEC Gyalson was apprised of the challenges in identifying active TB cases in Ladakh by the team of Central TB Division which is working in coordination with the Health Department, Ladakh and District Tuberculosis Center Leh under the National TB Elimination Programme of the Govt of India.
The committee also suggested various inputs to the Hill Council including the need for a community outreach program and to resolve the issues of health care workers during the practices and surveys. They also sought a senior-level political and administrative commitment from the Hill Council and UT Administration for a successful coverage of the programme to each and every citizen.
CEC Gyalson appreciated the efforts of the Health Department Leh in conducting several initiatives under the 'TB Harega Desh Jeetega' Campaign for active case findings of Tuberculosis in the district and assured full assistance from the Hill Council in successful outreach of the programme to every corner of the district.
Executive Councillor for RDD, Tashi Namgyal Yakzee, Executive Councillor for Agriculture, Stanzin Chosphel, Councillor Nyoma, Ishey Spalzang, Councillor Lamayuru, Morup Dorjey, Director Health, UT Ladakh, Dr Phuntsog Angchuk, ACR Leh, Shabbir Hussain, Dr Rasania, Dr Laxmi, Ashish and Dr Tasnima Syed from the Central TB Division, Ministry of Health and Family Welfare and officials of DTC led by DTO Leh, Dr Tashi Namgyal attended the meeting.