DDMA Chairman Leh reviews current Covid-19 scenario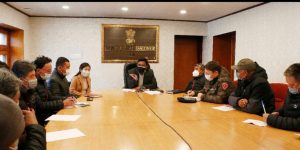 Leh, April 21: Deputy Commissioner/ Chairman, District Disaster Management Authority (DDMA), Leh, Shrikant Suse, convened a meeting to review the implementation of Covid standard operating procedures (SOPs) with the members of Covid Enforcement squads.
Chairman, DDMA Leh, reviewed the current status in the district and impressed upon the concerned officials and members to take strict legal actions against the people failing to adhere to the Covid-19 protocols. He exhorted them to conduct extensive groundwork and share weekly reports.
He also directed the concerned officials to ensure that all indoor gatherings outside are limited to 25 persons or 50% of the hall capacity, whichever is less. Similarly, the limit is 50 persons or 50 % capacity of the space with social distancing, whichever is less, in open spaces.
Chairman, DDMA Leh, directed that public transport and commercial vehicle should ply with 50 % seating capacity.
He enjoined the concerned officials to strictly enforce protocols, ensure face mask, distancing, thermal scanning and hand hygiene. He instructed that all indoor/outdoor games/sport and gyms should remain closed.
Chairman, DDMA Leh, threatened to register FIR against those furnishing fake RT-PCR reports. He instructed the squad to ensure enforcement of all precautionary measures as per MHA guidelines instead of limiting themselves to checking face masks.
He also reviewed the current Covid-19 testing status in the district and impressed upon the concerned officials to conduct house-to-house surveillance of locals and provide data regarding asymptomatic cases and quarantined people.
In-charge, Covid Command Centre, Leh, Namgyal Angmo (IAS probationer); Programme Officer, ICDS, Leh; District Covid Surveillance Officer (DSHO) Leh and members of the COVID Enforcement Squads were present in the meeting.