DC Santosh Sukhadeve chairs Road Safety Committee meeting Stresses for accomplishment of road safety audit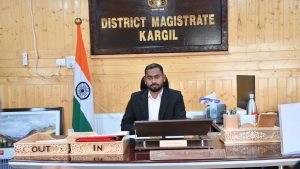 KARGIL, OCTOBER, 16, 2021: Deputy Commissioner and Chairman Regional Transport Authority/District Transport Authority Santosh Sukhadeve convened a meeting of the District Road Safety Committee here today.
SSP Kargil Anayat Ali Choudhary, Chief Medical Officer (CMO) Kargil Dr Munawar Hussain Wazir, Assistant Regional Transport Officer (ARTO) Kargil Khadim Hussain, District Education Planning Officer (DEPO) Haji Muhammad Amin, AEE R&B-II Kacho Mumtaz Ali Khan, representatives of Mini Bus Cooperative Union, Taxi Owners Cooperative Limited, Kargil Bus Operators Union besides other concerned officers were present during the meeting.
During the course of the meeting, detailed discussions and deliberations were held on the agenda points pertaining to road safety and Transport Authority.
The meeting was informed about the need of Cardiopulmonary Resuscitation (CPR) training and eye camp for professional drivers and establishment of trauma units at strategic places on the national highways.
DC Santosh Sukhadeve directed the concerned officers to conduct an eye camp for professional drivers before November this year at the CHC level, while SSP Anayat Ali Choudhary suggested for a collaborative CPR training for professional drivers and police personnel to deal with any sort of emergency.
Meanwhile, the meeting also discussed agenda points such as road and parking signages, demarcation of state and national highway, speed regulation within municipal limits, repairing of crash barriers by BRO, road safety audit, enhancement in number of traffic plastic cones and other allied issues.
As regards to the repairing of crash barriers on BRO roads, the Deputy Commissioner Kargil directed the concerned departments to write to BRO pertaining the matter, and also instructed involvement of all stakeholders in ensuring the road safety audit.
The Deputy Commissioner further directed the R&B Department to provide available plastic traffic cones to the concerned department to ensure smooth traffic movement. He also said that to impart the importance of road safety among students collaboration with schools and colleges is necessary where the students can be encouraged to volunteer as road safety ambassadors.
The meeting acknowledging the need to promote public transport system in Kargil decided that mini buses should be allocated routes on rotation (roaster system) so that maximum people can get benefited and traffic related issues can get redressed.