DC Leh visits Ibex Colony community hall to take stock of public grievances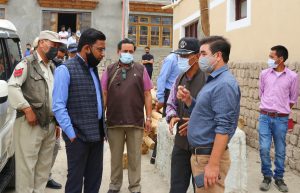 Leh, Aug 23: Deputy Commissioner (DC), Leh, Shrikant Suse, today visited the newly completed Community Hall at Ibex Colony to take stock of public grievances at Ibex Colony.
Assistant Commissioner Development (ACD), Leh, Tehsildar, Leh, Executive Engineer, PWD, PHE and Assistant Executive Engineer and Junior Engineer from concerned departments were also present during the visit.
Headman/Goba Ibex Colony apprised DC Leh of their grievances, including pending land allotment and re-evaluation, unconnected sewerage lines, the need for ATM facility, park/recreational centre, expedite macadamisation of roads, need for street lights, Public Address (PA) system, power line adjustment, reservation for ex-servicemen at national functions and changing the nomenclature of the polling station.
DC Leh, Shrikant Suse, gave a patient hearing to their grievances. He directed Tehsildar Leh to take up the pending allocation of undisputed lands. DC Leh assured to take up their issues at the earliest and directed the concerned officials to take the necessary measures.