DC Leh reviews status of Paani Maah activities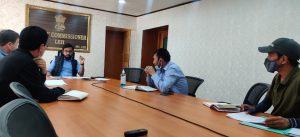 Leh, Aug 18: Deputy Commissioner (DC), Leh, Shrikant Suse reviewed the status of various activities held under the month-long programme named 'Paani Maah' targeted to start an extensive Information, Education and Communication (IEC) campaign to raise awareness on Jal Jeevan Mission (JJM).
The 'Paani Maah' is scheduled to be organised in two phases: Phase I from 1st to 14th August and Phase II from 16th to 30th August. In the first phase activities, such as sustainable cleanliness drives at water sources were held in different blocks and villages along with sample collection of water sources.
During the meeting, DC Leh reviewed the various activities to be organised in the second phase to Paani Maah, including organisation of JJM workshops at block level and gram sabhas, explaining JJM objectives in Paani Sabhas, reading of village wise status of detailed project reports (DPRs), reading of water quality reports tested in the first phase, training and demonstration of field-testing kits (FTKs). Special Gram sabhas- Paani Sabhas will be organised in all panchayats during the second phase of Paani Maah.
DC Leh directed the concerned officials to ensure the mandatory participation of all the members of the block level committee of JJM in the Paani Maah activities.
Assistant Commissioner of Development (ACD), Leh; District Panchayat Officer (DPO), Leh; Executive Engineer, PHE and Assistant Executive Engineer, PHE, Leh attended the meeting.