DC Leh reviews progress of JJM in Nubra Issues strict directions to expedite work; withholds salary of one JE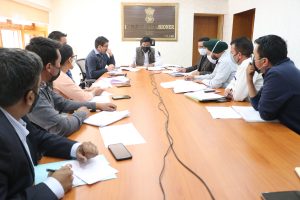 Leh, September 16: Deputy Commissioner (DC), Leh, Shrikant Suse, today convened a meeting to review the status of progress of Jal Jeevan Mission (JJM) in the Nubra sub-division.
DC Leh took stock of the village-wise progress of JJM in Nubra and reviewed the targets fixed to complete the project for each of the villages. He issued strict directions to the concerned officials to complete the pending tasks within the new specified deadlines. He shared with the officials about conducting a timely review meeting to take stock of the completion of the works under JJM.
DC Leh instructed the officials to tackle ground issues and find solutions to achieve the fixed targets on time. He also directed the officials to update the achieved targets on the Jal Shakti portal regularly.
While reviewing the junior engineer (JE) wise performance, DC Leh informed that the salary of a junior engineer (JE) has been withheld due to non-performance. He impressed upon the officials that strict actions would be initiated against non-performing officials. DC Leh also directed the PHE Department to take strict action, including blacklisting against the non-performing contractors.
Chief Planning Officer, Leh; Executive Engineer, PHE, Leh; Assistant Executive Engineer, PHE, Leh and Junior Engineers of Nubra sub-division were present in the meeting.