DC, Leh reviews ongoing work under JJM in Leh district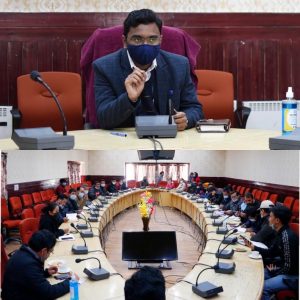 Leh, April 16: Deputy Commissioner/CEO, LAHDC Leh, Shrikant Suse, who is also the Chairman of District Water and Sanitation Mission (DWSM), Leh, today reviewed the ongoing work under Jal Jeevan Mission (JJM) in Leh district
District Superintending Engineer, Leh, apprised Chairman DWSM of the progress on the geotagging asset in schools and Anganwadi, detailed project report (DPR) of Functional Household Tap Connection (FHTCs) under JJM for the year 2021-22.
Chairman DWSM directed the BDOs to collaborate with the PHE officials due to the shortage of manpower. He also reviewed the status of the DPR, tendering process, survey and tagging to expedite the process of implementation of JJM in the district. He also directed the official to apprise him of their issues or grievances while performing their duties. He urged the officials to carry out their duties diligently.
District Superintending Engineer, PWD Circle, Leh; Assistant Commissioner Development, Leh; The Executive Engineer, PHE, Leh; AEEs / JEs of PHE Division Leh and Block Development Officers of Rural Development were present in the meeting.