DC Leh reviews labour registration on E-Shram Portal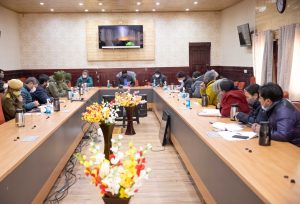 Leh, 10 Feb: Deputy Commissioner, Leh Shrikant Suse chaired a meeting of the District Level Implementation Committee for mobilizing unorganized workers registration on e-Shram portal at conference hall of Deputy Commissioner Office, Leh.
During the meeting, Assistant Labour Commissioner (ALC), Leh Delex Namgyal apprised all the participants about E-SHRAM portal which has been developed by Ministry of Labour and Employment for all type of unorganised workers such as construction workers, migrant workers, street vendors, ASHA workers, SHG members (NRLM/NULM), Anganwadi Workers, MGNREGA workers etc .He also put forth progress achieved regarding labour registration on the e-Shram Portal, process of registration on www.eshram.gov.in.
DC Leh reviewed department wise target and progress achieved so far from all concerned HODs as well as officials of Project Himank and Vijayak and issues faced by agencies in execution.
He stressed that in wake of start of new season, all departments and executing agencies must ensure maximum registration on e-shram portal which can be possible through self registration by visiting e-SHRAM portal (www.eshram.gov.in) or through nearest common service centres free of cost.
After registration, beneficiaries can get accidental insurance cover of 2 Lacs under PMSBY. In future all the benefits of unorganised workers will be delivered through this portal.
He directed ALC to prepare comprehensive IEC plan in coordination with all concerned department/executing agencies to create awareness about process and benefits of registration on E-SHRAM portal and motivate beneficiaries to register.
The meeting was attended by Officers of Project VIjayak/Himank, Assistant Commissioner Development,Chief Medical Officer, Chief Agriculture Officer,District Program Officer, ICDS,District Social Welfare Officer,Leh; Executive Officer, Municipal Committee, Leh; Assistant Labour Commissioner, Leh and District Manager CSC etc.