DC Leh reviews DLRC for March-June 2021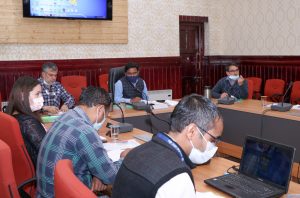 Leh, September 15: The District Level Review Committee (DLRC) for the quarter-end March and June 2021 was conducted today at the District Commissioner (DC), Conference Hall, Leh. The meeting was chaired by DC, Leh, Shrikant Suse, who also is the Chairman, DLRC/District Level RSETI Advisory Committee.
DC Leh took stock of the performance of the various banks. He impressed upon the banks to improve their Cash Deposit Ratio and directed the banks to organise camps and outreach programmes in the agricultural sector and Micro, Small and Medium Enterprises (MSME) Sector, before the onset of winter. He also directed the banks to focus on publicising educational loans.
Highlighting the potential in the renewable energy sector, DC Leh directed the banks to submit a proposal. He also stressed on completing the pendency at the earliest.
Lead District Manager (LDM), SBI, Muzaffar Hussain Khan, requested the Agriculture and Horticulture departments to route their cases through LDM. In this regard, DC Leh advised to set up a monitoring mechanism and to apprise him every 15 days.
The banks also put forth their suggestions and issues faced in the meeting. The meeting was attended by various banks such as HDFC, Yes Bank, Axis Bank, Cooperative bank, ICICI, Canara Bank, PNB, IDBI Bank, Central Bank of India, J&K bank and State Bank of India. Concerned members and officials from different government departments also attended the meeting.