DC Leh reviews current Covid-19 situation in Leh district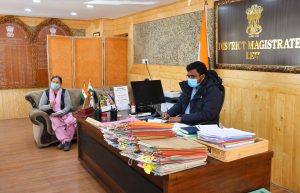 Leh, Nov 06: Deputy Commissioner/ Chairman, DDMA Leh, Shrikant Suse convened a meeting to take stock of the current Covid-19 situation in the Leh district.
DC Leh enquired about the arrangement and preparation of medical facilities in terms of beds, oxygen and medicines. He directed the concerned officers to make necessary arrangements at all levels to overcome any spike in Covid-19 cases.
DC Leh also directed the surveillance officer to enhance Covid testing, contact tracing and surveillance. Covid-19 Special Enforcement squads have been formed by DDMA, Leh to strengthen Covid-19 surveillance and to ensure that all Covid-19 related guidelines and SOPs are strictly enforced at public places, schools etc.
He impressed upon the officers to ensure that all sorts of gatherings are held within the permissible limits with all Covid protocols.
Similarly, all SDMs have been directed to increase surveillance and compliance to Covid norms in respective sub-divisions.
DC Leh also stressed strengthening surveillance mechanisms at the airport and Khaltse check post by enhancing manpower in terms of magistrate and police personnel.
Earlier, Chief Medical Officer, Leh and Medical Superintendent, SNM Hospital and State Surveillance Officer apprised DC Leh on the Covid-19 situation and necessary arrangements such as establishment of Covid Care Centers and facility for isolation of mild cases as well as suspects.
The meeting was attended by Additional Deputy Commissioner, Leh; Chief Medical Officer, Leh; State Surveillance Officer, Leh; Medical Superintendent, SNM Hospital and a representative from Police Department, Leh.