DC Leh reviews capacity of online exam centres in Leh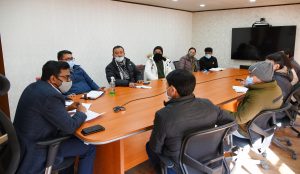 Leh, Dec 29: Deputy Commissioner, Leh, Shrikant Suse today convened a meeting to review the status of online centres for conducting examinations in online mode in the district.
DC Leh inquired about the status of current functional capacity of the various private online exam centres and the government institutions. Highlighting the need of enhancing the capacities of online centres, DC Leh directed the private institutes to expand their capacities with all the mandatory prerequisite facilities for the candidates/students. He directed to ensure adequate facilities in terms of internet connectivity, drinking water, washrooms, fire safety equipment and CCTVs.
DC Leh shared that the District Administration would also expand the capacity of the District Subordinate Service Recruitment Board (DSSRB) to conduct online examinations.
Controlling officer, NIELIT, Leh also informed the chair about the proposed plan to expand the capacity of its centre to 300.
Additional Deputy Commissioner, Leh; District Informatics Officer, Leh; Controlling Officer, NIELIT, Leh; Principal, EJM College, Leh; Chief Education Officer, Leh; Vice Principal, Lamdon Model Senior Secondary School, Leh and representatives from private online centres, such as Pangong Computer Centre, Lamdon Online Assessment Institute and G-Com centre attended the meeting.