DC Leh reviews arrangements for schools reopening in Leh district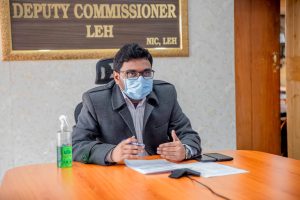 Leh, March 02: The Chairman, District Disaster Management Authority (DDMA), Leh, Shrikant Suse convened a meeting to discuss arrangements for the reopening of schools (6th to 12th class) from March 7.
DC Leh enquired about the arrangements made by the officials for the smooth conduct of classes in every school.
At the outset, CEO Leh presented arrangements made for reopening of schools in terms of basic facilities at COVID-19 SOPs in the schools and residential hostels. SDMs and respective ZEOs also presented status of arrangements in their respective jurisdictions. District Health Officer, Leh also apprised the DC about various arrangements by the health department regarding Covid-19 in schools of Leh.
DC directed all SDMs to visit schools and review arrangements. He also directed to obtain certificate from every head of institutions before 5th March regarding status of arrangements. Special squads will also be formed at sub-divisions levels consisting magistrates and officials of health and education departments to monitor compliance of all SOPs in the schools.
DC Leh stated that District administration will be conducting special welcome events at every school under theme of 'Back to School' on 7th March. Senior officers, public representatives will be present at each school. Program will involve career counseling, motivational talks, and felicitations of rank holders in 10th and 12th and meeting of parents, officers of education department to discuss present status of schools. Suggestions will be sought from all stakeholders regarding school infrastructure, learning outcomes which will be compiled at district level and action taken will be monitored on regular basis.
The Director of School Education Ladakh stated that a special enrollment drive in all schools will be initiated part of the 'Back to School' programme.
The meeting was attended by the Director, School Education, Ladakh; Additional Deputy Commissioner, Leh; Sub-Divisional Magistrates; Chief Education Officer, Leh; District Health Officer, Leh; Zonal Education Officers; Block Medical Officers and other concerned officials.