DC Leh inspects various govt schools in Chuchot Block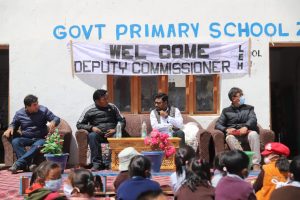 Leh, April 22: The Deputy Commissioner/ CEO, LAHDC Leh, Shrikant Suse today visited various govt schools in Chuchot Block. Councillor Chuchot; Block Development Council (BDC) Chairperson, Chuchot; Sarpanchs and Nambardars; Assistant Commissioner Development, Leh: Chief Education Officer, Leh; Executive Engineer, PHE Leh; Executive Engineer, PDD Leh; Block Development Officer (BDO), Chuchot and Zonal Education Officer, Leh accompanied DC during the visit.
As April 22 is observed as Earth Day, along with the inspection of schools, DC Leh also participated in a plantation drive at all the schools.
While inspecting the schools, DC Leh enquired about the enrollment rate, students' strength, teachers and staff strength and other infrastructure issues faced by the school administration. Simultaneously, he also inspected the functionality of Jal Jeevan Mission connections in the schools.
DC Leh directed the concerned departmental officers to complete the pending works and to prepare DPR for other works related to the schools at the earliest.
The Government High School, Chuchot Yokma, especially raised the issue of making the administrative block and Digi lab accessible to the Children with Special Needs (CWNS) students and the requirement trained manpower. DC Leh also inspected the operationality of the CWNS hostel in Chuchot and assured to look into the issues faced by them.
Earlier, the school administrations headed by Principals put forward their various concerns regarding the up-gradation, extension and renovation of school infrastructure, compound walling, conditions of classrooms, need of construction of additional classrooms, Digi labs, smart classes, laboratories, libraries and other issues.
DC Leh inspected several schools of Chuchot Block, such as the Government Primary School, Zamchung and Basgorong; Govt Middle School, Kuzey, Alchirong and Yarlok; Govt High School, Chuchot Yokma and Govt Higher Secondary School, Chuchot Shamma.