DC Leh chairs DLRC/DLRAC meeting for Sept 2021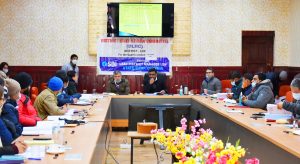 Leh, Dec 21: Deputy Commissioner, Leh, Shrikant Suse, who is also the Chairman of District Level Review Committee (DLRC) chaired the meeting of the DLRC and District Consultative Committee (DCC) of Leh district for the quarter end of September 2021 at DC Conference Hall today.
During the meeting, DC Leh reviewed the performances of various banks under the Annual Credit Plan 2021-22 of Leh district, Government Sponsored Schemes, Kisan Credit Cards, Financial Literacy Initiatives/ Camps, Social Security Schemes, PM SVANidhi, National Rural Livelihood Mission (MRLM) and National Urban Livelihood Mission (NULM).
DC Leh, Shrikant Suse impressed upon the concerned officers/officials to undertake necessary actions to improve their achievement ratios and to address the concerns of the applicants. He directed to conduct awareness camps, workshops, a list of frequently asked questions (FAQs) and banners for availing benefits under different schemes.
DC Leh also chaired the District Level RSETI Advisory Committee (DLRAC) meeting to review the performance of Rural Self Employment Training Institute (RSETI), Leh. It was informed that 108 batches of skill development training were conducted, since the inception of RSETI in Leh, in which a total of 2313 candidates were trained. Also, informed that the percentage of female trainees in RSETI is higher than the male.
DC, Leh enquired about the retention rate of the trainees and directed the concerned officers to follow it up with the Rural Development Department and submit a detailed report. He also asked about the status of the new trades to be introduced in the RSETI programme, as instructed by him in the previous DLRAC meeting.
Lead District Manager (LDM), Leh urged the banks to make concerted efforts to expand the digital payment ecosystem of the district.
Chief Planning Officer, Leh; Lead District Manager, Leh; Deputy Director, Employment; Chief Animal Husbandry Officer, Leh; Project Manager, Urban Local Bodies and officials of various other departments and banks including, SBI, J&K, Axis, ICICI, HDFC, Yes, JKGB, PNB. BOI and IDBI bank attended the meeting.