DC Kargil takes stock of public issues, grievances at Lungnaq Block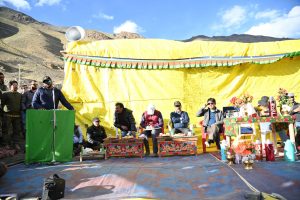 KARGIL, SEPTEMBER 02, 2021: On the 3rd day of his 4 day extensive tour of Zanskar Sub Division, Deputy Commissioner and CEO, LAHDC, Kargil Santosh Sukhadeve along with the Senior Superintendent of Police Kargil Anayat Ali Choudhary on Wednesday visited Lungnaq Block where he interacted with the various public delegations to take first hand appraisal of the issues and developmental needs of the local population.
The DC met a number of delegations at Pibtcha, Itcher, Anmo, Purnay, Phuktal Monastery, Yugar, Cha, Testa and adjoining villages and listened to their grievances and demands.
Additional SP Kargil Iftikhar Talib Choudhary, Councillor Cha Constituency Stanzin Lakpa, Assistant Commissioner Development Kargil Ghulam Muhammmad, Chief Education Officer Nazir Ahmad Wani, Chief Medical Officer Dr Munawar Hussain Wazir, Chief Agriculture Officer Kacho Muhammad Ali Khan, Sub Divisional Magistrate Zanskar Sonam Dorjay, Deputy Registrar Cooperatives Dr Zakir Hussain, Executive Engineer PDD Altaf Hussain, Executive Engineer EPD Feroz Kakpori, Executive Engineer PWD Division Zanskar Muhammad Abbas, Assistant Director FCS&CA Akbar Ali besides other district and Sub divisional officers accompanied the DC during the tour.
The Deputy Commissioner along with the officers trekked for a distance of around 10 kilometres from Purnay to the Phuktal Monastery and back.
The monks of the historic Phuktal Monastery and locals apprised the Deputy Commissioner about various demands which included steps for preservation and restoration works of the 2600 years old monastery, construction of link road to Phuktal area, construction of school building, establishment of mobile tower in the area and other related demands.
Responding to the demands, DC Santosh Sukhadeve assured the management of the monastery and locals that all possible steps will be taken to address the issues. Considering the immediate need for school building in the area which was washed away by floods in the past, the Deputy Commissioner said that funds will be provided out of the Untied Funds for construction of a pre-fabricated structure so that studies of children is not affected.
As regards to the construction of road to Phuktal and provision of mobile connectivity, the Deputy Commissioner said that road to the area has been proposed on priority under the Central Road Funds (CRF) while a mobile tower will also be proposed under the Univeral Service Obligation Fund (USOF). He also assured that demand related to the restoration and preservation of the historical monastery will be taken up with the Department of Tourism and Culture UT Ladakh in due course of time.
At Block Headquarter Cha people's delegations highlighted several issues and put forth a number of demands which included the resolution of border dispute with Himachal Pradesh, seperate helicopter services for Cha in winters, revival of trekking routes in the area, creation of additional CD Block for Lungnaq, opening of bank branch, settlement of land compensation cases, construction of roads, augmentation of water supply, construction of irrigation canals besides other related demands.
Addressing the people, DC Santosh Sukhadeve praised the natural beauty of Zanskar Valley and its rich cultural heritage especially its famed monasteries and assured that all genuine demands and issues of the locals population would be addressed in a phased manner. He assured those efforts will be made to open up a bank branch at Block Headquarter Cha for convenience of the people, and in the meantime Banking Correspondent will be deployed, adding he said that all pending land compensation cases are being expedited to ensure that the concerned people get their due compensation at the earliest possible.
Regarding the construction of internal roads, the Deputy Commissioner urged the local people to provide land in this regard. He further said that steps for provision of round the year clean and safe drinking water to every household are being taken in full swing under the Jal Jeevan Mission (JJM) while measures will also be taken to introduce solar lift irrigation system in Lungnaq area.